Let's be honest, Everton Football Club have not been their best for the past year-or-so.
Everton had a quality season in Roberto Martinez's first season at Goodison, finishing 5th in the league and qualifying for the Europa League, but since then the blues can't find the magic they had in the 2013/14 season.
The 2014/15 season finished with Everton in 11th place, and dissappointingly only reaching the Europa League Round of 16 after losing 6-4 to Dinamo Kyiv on aggregate despite being 2-1 up in the first leg.
This season, the 2015/16 season, is still not where Everton should be, given the quality of the team the blues have. Everton started strong in the season, but dropped form and eventually got knocked out of the Capital One Cup in the semi-finals against Manchester City, losing 4-3 on aggregate after being 2-1 up in the first leg. Everton have recently won a few games, but lost their last game against West Brom today, 1-0, despite being dominant throughout the game. They are currently 10th in the league.
So, I'm sure you can agree that Everton are under-achieving. The squad Martinez has built is a fantastic team, with many Champion's League-quality players, who are all very young and skillful. We are extremely lucky to have players like Romelu Lukaku, Ross Barkley, Gerard Deulofeu and John Stones at the club, considering the huge interest from huge clubs, who are in the Champion's League every year.
What is the reason for us not doing as well as we should? It's all well-and-good telling you that we're doing poorly, but what is causing this? There's a few points I can think of that is stopping Roberto Martinez from achieving his top 4 dream.
1. The Boss Himself
Many Everton fans are very fickle. After a game that the blues lose, you will see many fans tweet things like, 'Martinez is the worst manager in the world #MartinezOUT' but will support Roberto Martinez when we win. This sparks the question, 'Is Roberto Martinez the right manager for Everton Football Club?' Leading to many Everton pages, including ourselves, to post Twitter polls discussing the topic.
I take the piss out of our fans who don't support Martinez all the time, but I actually think the fans have a right to be concerned. The boss has played some questionable lineups throughout this season, starting players who have been out-of-form (mainly Tim Howard). Roberto may have to be looked at properly to see if he actually has what it takes to replicate his 2013/14 season and bring European football to Goodison, like he said he would.
2. Out-of-Form Players
This is relating to the first point, to a certain extent, as Martinez decides the squad we play on the pitch, but players like Tim Howard who aren't up for a starting spot every week are partially to blame for the club's decrease in form over the past year-or-so. Tim Howard and Arouna Kone are the main culprits for not being the best. Kone had a good start to his 2015/16 campaign, scoring a hat-trick against Sunderland early on in the season, but slowly decreased in form over the past few months. Admittedly, the golden-haired Ivorian isn't playing as much as he was earlier in the season, thanks to Martinez. Howard, on the other hand, has been playing especially poor. The American 36-year-old has been Everton's number one for near-enough 10 years now, but has hugely decreased in form over the past two seasons. Howard has started to recieve hate from fans over social media and in games, which makes him retaliate. When fans ironically cheered in the first game against Stoke this season (we lost 4-3 but let's forget that), he reacted by sarcastically clapping the fans. Tim and the fans don't get along anymore, with the fans happy to publically show this by tweeting Everton 'drop Howard' at every opportunity.
Howard has been linked with a move to the MLS with Colorado Rapids, but according to Martinez, Everton have had no contact from the MLS about a move for Tim Howard. Despite this, Martinez hints that Howard could be off, saying ''It's important that Tim doesn't feel that all his good work has been forgotten.' This may suggest that Martinez feels Howard is leaving and we should look back at the keeper's Everton career in a good light, rather than make Howard have a bad end to his 10-year career at the club.
Joel Robles, the current number two, has shown he has what it takes to take the top spot in between the sticks this season. He has performed superbly in the Capital One Cup and in the few league games he's played this season. Hopefully Joel can keep this good performance, and continue to start games.
3. The Board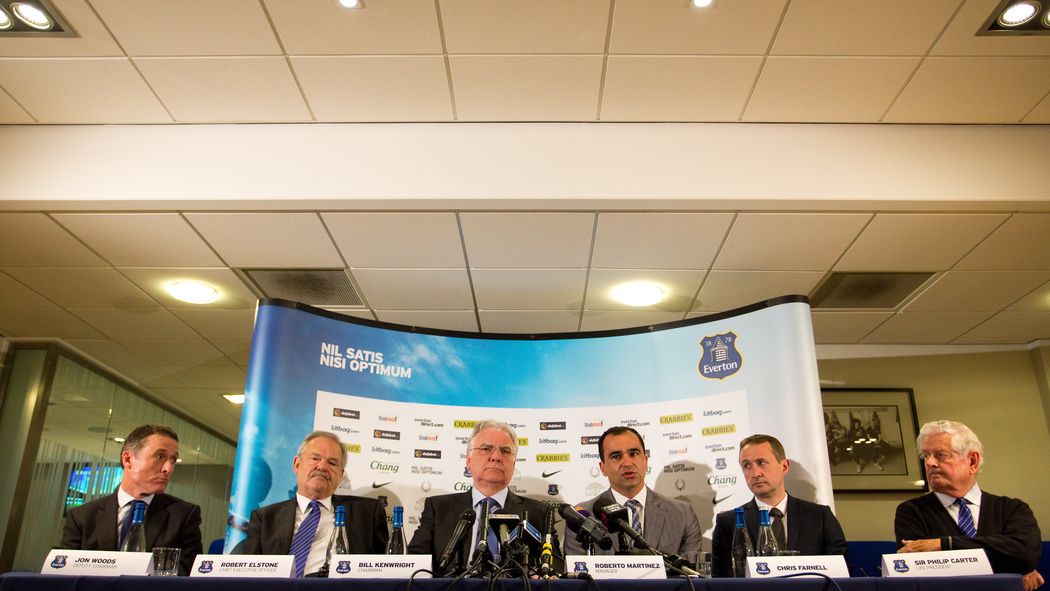 Bill Kenwright, Jon Woods, Robert Elstone and Robert Earl are Everton's Board of Directors. Every Everton fan has a different opinion on this lot. Some want them gone, some want them to stay. They have not invested much, if anything, into the club, as they don't have the money. Bill Kenwright, the chairman of the club, admitted this when he bought the club on Christmas Eve in 1999. He promised that he didn't have endless cash to plough into the club but he did have a plan. The ammount of talk of investment into the club from other people is endless, but nothing seems to happen. Obviously, I'd love to see more investment into the club, but Kenwright is a true Everton fan, and he said he'd only get investment if he thought it'd help the club, so for over a decade, he hasn't put investment into Everton. Let's not deny it, Kenwright is a likeable man. He seems to genuinely care about Everton and wants it to succeed, but he is also a bit of a liar and seems to break tons of promises. Bill claimed Wayne Rooney "will not be sold - not even for £50m" and then was sold for £28m not long after, but that's just a small example of the many lies from Kenwright and the board.
There has also been talks of a move away from Goodison Park to a bigger, more modern stadium for years now, but nothing has happened yet. The artists interpretations of the stadiums we could've had look incredibly exciting, but sadly, the new stadiums weren't built, and we are still at good 'ol Goodison.
An artist's impression of the King's Dock site on the banks of the River Mersey.
An artists illustration of the proposed 50,000 capacity stadium at Kirkby.
Anyway, despite all this moaning about the board, some interesting news popped up a few months ago. Two American businessmen are looking into buying the club with a deal worth £200m.
John J Moores and Charles Noell are the two men interested in the club. Moores is an American entrepreneur and philanthropist, and the former owner of the San Diego Padres of Major League Baseball (MLB) who is 71 years old.I could not find too much information about Noell but has been called a "little-known big businessman".
Kenwright granted them and their partners a period of exclusivity to examine finances at Goodison Park in December 2015, and now Moores and Noell hope the takeover could be completed as soon as the next two weeks.
To add to this, Roberto Martinez recently said "I've always said what the chairman is for Everton and I wouldn't want Bill Kenwright to lose his association with Everton, ever. I think it would be a loss if we do that. Whatever the investment or whatever the situation is in the future, in 10 or 15 years I would love to see Everton benefit from our chairman for the rest of his life." There is also reports of the boss saying he feels new owners would fulfil his top 4 dream, but still insists that Bill Kenwright should still be involved with the club.
We'll see where this goes, but I'd like it done quickly and hopefully this can be a change for the better.
At the moment, that's all I can imagine could imrove the team. Be sure to tweet us (@1878Blog) with your improvements that could be made to the club.
Cheers for reading!
-Rhys Jones