I'll admit, we've been slacking with the match previews and reviews, but we've been busy with real life stuff. Hopefully we can get back into the swing of things soon.

As we have missed the past four matches to review, I have combined them into one blog post. 
Bournemouth v Everton (28th November 2015)
Everton lead most of the game, but somehow, Bournemouth managed to secure a 3-3 draw in an incredibly thrilling but also annoying game for the blues.
The blues couldn't keep their 2-0 lead they had at half time and only managed to end with a dissappointing 3-3 draw.
Despite being the better side the whole game, the blues managed to lose 2 points in a fustrating match.
The toffees were on top at the break, with a solid-looking 2-0 lead, but obviously, as we're Everton, we managed to mess it up...
Everton bottled the lead twice. Firstly, having a 2-0 lead at half time which then was equalised by Bournemouth. However, the blues did get a 95 minute goal from Ross Barkley, causing fans to invade and celebrate with the diamond. Sadly, due to the pitch invaders, the referee added 3 extra minutes of added time, causing Bournemouth to equalise, AGAIN, in the 98th minute.
This was the start of a long, hard and fustrating run of form.
Everton v Crystal Palace (7th December 2015)
The blues, once again, were the better side but could only secure a 1-1 draw with Palace.
The blues were all over pretty much the whole game but couldn't produce the goals.
Scott Dann headed it in on the 76th minute, but luckily, inform Romelu Luaku managed to cancel it out in the 81st minute, giving him his 50th goal for Everton in his 100th appearance.
Lukaku has been unbelieveably good so far this season, with only Jamie Vardy scoring more than him. Big Rom is also on track to beat, or at least equal Jamie Vardy's record of most consecutive Premier League games with a goal, a record previously owned by Ruud Van Nistlerooy. The Crystal Palace game gave Rom 5 goals in 5 Premier League games, the record being 11 goals in 11 games.
Overall, this game was fustrating, but there was also something to take from it - an Everton player could have a Premier League record!!
Norwich v Everton (12th December 2015)
Lukaku gets his 6th goal in 6 games against Norwich, but the Blues could only get a point from the fustrating game.
The blues could've won the game by a HUGE margin (like 8-1 or something) but once again Everton'd it up and got a 3rd draw in a row.
Everyone thought a vital player for our team, John Stones, was injured and could potentially be on the sidelines for a while after somehow injuring himself in the warmup.
Luckily, for Stones and Everton, he was okay, and continued to play the game after recieveing treatment.
The draws keep coming and the fans keep complaining. We all just hope we can get our form back to where it should be.
Everton v Leicester (19th December 2015)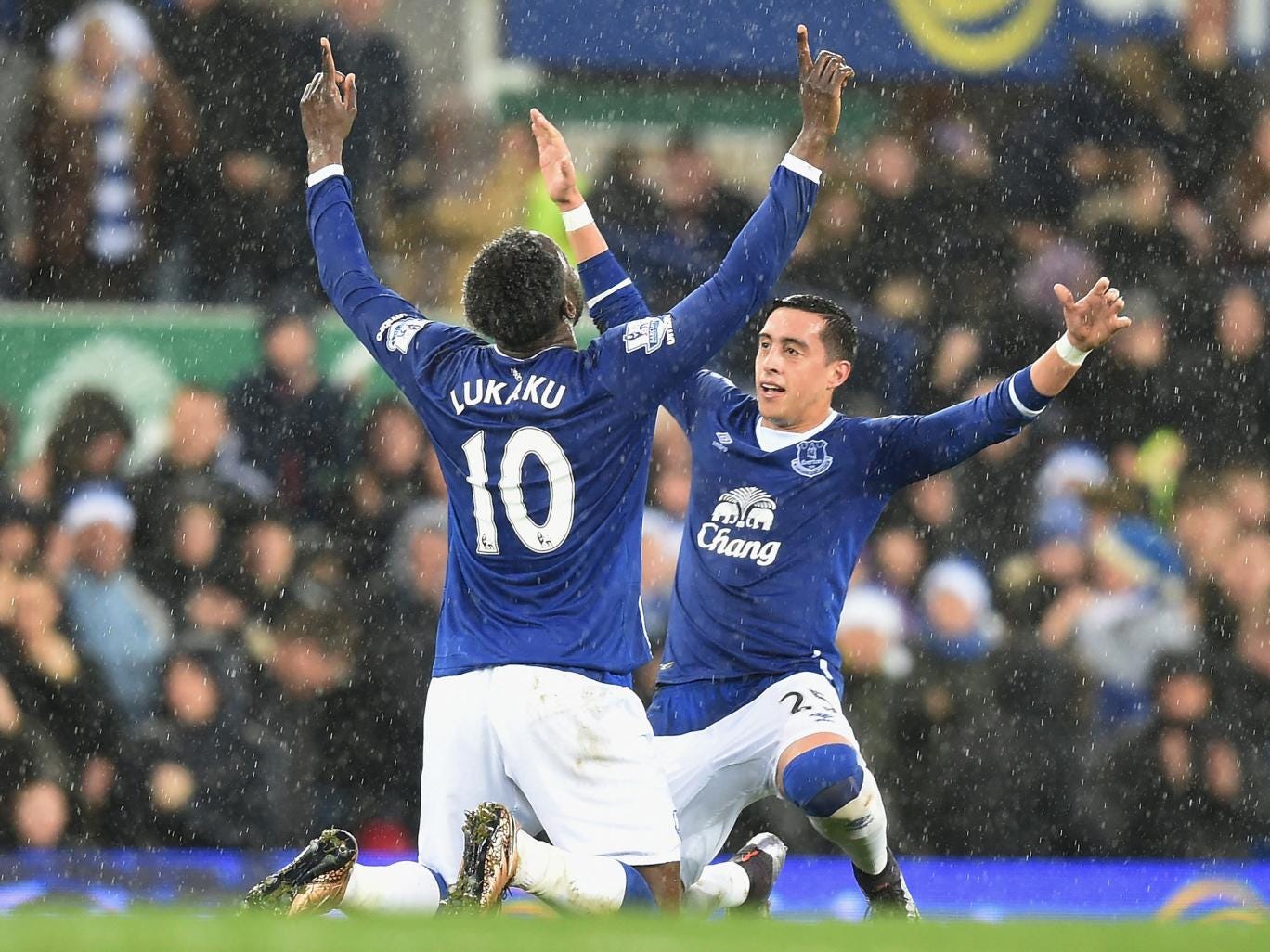 This game was a mess. We should've won. We could've won. But we lost 3-2 to a Leicester team that weren't at their best.
We could've won if we hadn't have given away 2 penalties. You've got Funes Mori and Tim Howard (Better known on Twitter as "Starjump Nonce") to blame for that. 
On the brightside, Rom managed to score a goal to get his 7th in 7 Premier League games, meaning he is one step closer to equalising, or even beating, Jamie Vardy's record! The record is 11 goals in 11 games.
Kevin Mirallas also made a suprise appearance today and got himself a goal! Kev hasn't played for a while now, and is only just returning to the team. We are not sure what has happened, or why Martinez feels it's better to play Arouna Kone over Kevin Mirallas week-in, week-out, but it's good to see Kev get a goal to make the loss less painful.
Back to Starjump Nonce (Tim Howard) now though, and how AWFUL he is. Admittedly, nobody gave Funes Mori much abuse when he gave away a penalty, whereas everyone jumped on Tim Ho- sorry, Starjump Nonce's back when he gave one away, but the difference is that FUNES MORI IS A PLAYER CAPABLE OF PLAYING FOOTBALL! As much as Starjump Nonce is a good servant for Everton, his time has passed and he needs to give room for Robles, or even a new keeper we buy in a transfer window (I have been praying for Butland to join ever since the rumour began).
This was the 4th Premier League game we dropped points in. We have been the better team in all of the games mentioned in this blog post. We have lost 9 points in our last 4 games. If we had won all the points we've deserved, we'd be in a top 4 spot over Christmas, rather than in 10th place.
I just hope this form is quickly turned around.
Many people are turning against Martinez again, saying #MartinezOut on Twitter. We wanted to see what the majority of blues thought on the matter, whether they are #MartinezIn or #MartinezOut, so we held two polls on Twitter.
Majority are #MartinezOut but a good portion still feel Martinez should be given more chances.
There's still some time left to vote, and we always use our Twitter, so there will be more interactivity on our Twitter, so give us a follow to have your say - @1878Blog.
Thanks for reading; hopefully we're going to get more active on here, we have just had important things to deal with this past month-or-so.
-Rhys Jones